Commercial Kitchen Exhaust Cleaning Specialists
Commercial Cleaning Service
*** We provide Health & Safety CERTIFICATE as per NFPA 96 code, before and after pictures will be provided after the completion of work.
*** We are NFPA #96 CERTIFIED Kitchen Exhaust System Cleaning Company.
*** WSIB and Liability Insurance will be provided before the start of work.
The range hood in your kitchen is most likely one of the most significant components in the space. It keeps grease and other particles off your stovetop while also keeping your kitchen free of smoke and odours that could otherwise be created. However, the vent hood can become clogged with oil and other particles over time, making it less efficient at the tasks it was supposed to perform. As a result, you should clean your range hoods or vent hoods on a regular basis. Any hardened oil accumulation on the vent hoods is physically scraped off with a wire brush before they are sprayed with a degreasing solution and washed with hot water. This procedure is continued until the vent hoods are completely clean. Cleaning the vent hood is an important element of keeping a safe working environment in a restaurant's commercial kitchen, both for the workers and the customers.
If your kitchen is constantly in use, you're bound to produce a build-up of grease in your hoods, flues, and fans. The only way to reduce the likelihood of a fire happening is by keeping everything clean–it'll make things run more smoothly too!
To keep your business safe from fire and costly downtime, regular cleaning of your hood, flue and fan with a potent mix of detergent and water will prevent dangerous grease accumulation. Let Hamilton Hood Cleaning take care of this for you – for good! We do business unlike any other, and we're proud to say that our customers are our best advertisement. They trust us, so why not try us out?
We Have The World's Most Awesome Clients










Hamilton Hood Cleaning Services
Do you ever notice tiny oil particles on the lids of your pots and pans? Those little droplets of oil can become airborne and eventually lead to a build-up of grease. Over time, the airborne grease progresses through the exhaust and accumulates on the hood. Eventually, this collected grime builds up with more smoke, food particles, and dust.
If you want to avoid the hazards of grease fires, property damage, and ruined equipment, you need our professional Hamilton Hood Cleaning services. We do our job in a way that you will never have to go somewhere else for your hood cleaning needs.
Hamilton Hood Cleaning
Service Near Me
We've built up a reputation in Hamilton for our company's commitment to making things more convenient than usual. We want you to feel reassured for all of your Hamilton hood cleaning needs. We're not the type to leave you in a lurch – we'll be there for whatever you need!
If you don't clean your exhaust hood, it will become backed up. Then, the kitchen will start to smell bad because of the smoke, grease, and old food. This smell will end up on each plate of food that you serve. The smell will gradually spread through the dining hall and to every other room in the restaurant. The place people used to visit for its appetizing scent will now be abandoned because of the foul odour it emits.
You never want that to happen to your business, do you? Of course not! It's why we offer you an affordable and reliable Hamilton hood cleaning service near me. We'll clean your exhaust hoods, flues and fans so that they won't impede your business with bad smells and fire hazards.
Restaurant Hood Cleaning for Hamilton Restaurants
Restaurant hood cleaning for Hamilton restaurants is an intricate process that should be done by professionals. It all starts with a free, no-obligation professional consultation to discuss your needs and what can be done for you to keep your commercial kitchen safe from fire hazards.
Our standard procedure includes:
Cleaning the hood, ceiling and roof exhausts, fans, filters and duct work.

Spot cleaning the bare metal (paint stripping not included).

Emptying and removing all grease, hair and other debris from the entire system.
If you're in need of restaurant hood cleaning for Hamilton restaurants, you can count on us!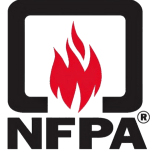 Our Fully Trained Service Technicians Follow The NFPA 96 (National Fire Protection Association) Standards for Hood & Kitchen Exhaust Cleaning.
Get Your Free Hood Cleaning Estimate Now!
We are NFPA 96 Code Compliant Hood Cleaning Service
The National Fire Protection Association 96 code is mostly used to provide a strict set of guidelines that equipment owners must follow when it comes to fire prevention. These requirements are based on over 30 years of research and investigations. This code applies to all commercial hoods, exhaust systems and ductwork within the United States and Canada.
Extensive field testing has shown that if you don't clean your grease hood, exhaust system and ductwork every six months, you will have a high risk of fires within your kitchen.
If you don't keep up with regular cleaning of your Hamilton hoods, exhaust systems and ducts, the oil residue will ultimately accumulate on the surfaces that are present in your fire suppression system. If any part of this system clogs, the entire system will be compromised.
As such, it makes sense to clean grease hoods and exhaust systems every six months. If you do this, you can stay compliant with NFPA 96 code, which makes sure that your customers are safe from debris build-up and other hazards.
Hamilton Kitchen Hood Cleaning Services
A company's paramount duty is to ensure the safety of its clientele and employees. Even if a restaurant business has the most skilled and qualified workforce, one mistake in equipment handling and maintenance can jeopardize everything.
Now is the time to invest in Hamilton Kitchen Hood Cleaning Services. With professional hood cleaners in tow, the used-to-be burden has become an easy and simple task. There is no need to stress over the food preparation process because you can be confident that there won't be any danger to your customers.
There's a valid argument for why Hamilton Kitchen Hood Cleaning Services should always come first on your list. Ventilation system cleaning is not just about rubbing the dirt off. It needs a thorough understanding of the inner workings of a commercial kitchen exhaust system. Delegating this job to an inexperienced and ill-equipped person can lead to unimaginable results.
Although the exterior of a hood may look clean, it hides years' worth of smoke and grease build-up. If not cleaned, these will literally explode and cause irreparable damage to your restaurant's reputation.
At Hamilton Kitchen Hood Cleaning Services, we specialize in:
Hood cleaning

Exhaust fan maintenance

Range fan cleaning

Filter replacement

Grease trap pumping

Fire suppression system servicing
All of these services are handled by highly trained and experienced hood cleaners. Our crew will perform all necessary maintenance without disrupting your daily business operations.
Hamilton Commercial Hood Cleaning
A qualified technician will hand-scrape the interior and exterior of your exhaust hood, removing as much grease as possible. By doing this, you will prevent grease from overheating and potentially catching fire inside your exhaust system.
Not to mention, scraping will get rid of any bad smells coming from the grease and grime. Lastly, you should regularly clean your kitchen exhaust hoods so that your kitchen is up to the fire safety code.
Professional cleaning costs money, but it is an essential step in keeping your restaurant customers safe. A fire can easily destroy the reputation of a successful business and incur many financial costs, including lawsuits that surpass any amount you would spend on cleaning your exhaust hoods.
The Hamilton commercial hood cleaning specialists will keep your kitchen equipment clean and working properly at all times.
Commercial Kitchen Hood Cleaning Services Near Me
To find professional hood cleaning services near you, simply search for "commercial kitchen hood cleaning" in your local area.
A company will provide you with a free quote and answer your questions about pricing, equipment, and methods of kitchen exhaust cleaning. They should also have the proper certification to perform commercial kitchen exhaust system service.
In Hamilton ON, we offer unsurpassed commercial kitchen hood cleaning services that will meet the highest standards. Our team of certified and experienced technicians will provide you with excellent results, making us the leading company in our field. Better still, we offer affordable rates giving you great value for your money.
Restaurant Hood Cleaning Near Me
Restaurant hood cleaning is a never-ending task. Ventilation systems in kitchens are continually exposed to grease, smoke, and other food byproducts. So, if you own a restaurant or manage a commercial kitchen in Hamilton, Ontario, it makes sense to partner with a local cleaning company.
A professional hood cleaner handles your exhaust system, keeping it clean and working efficiently all year round. Cleaning is a lot more complicated than you might think; the filters, ducts, and fans are highly specialized and require special equipment to work properly.
With us by your side, there's no need to worry about all the cleaning work. Simply contact us and we'll take care of the details for you. Our crew is highly experienced, knowledgeable, and fully certified in all kinds of hood cleaning tasks.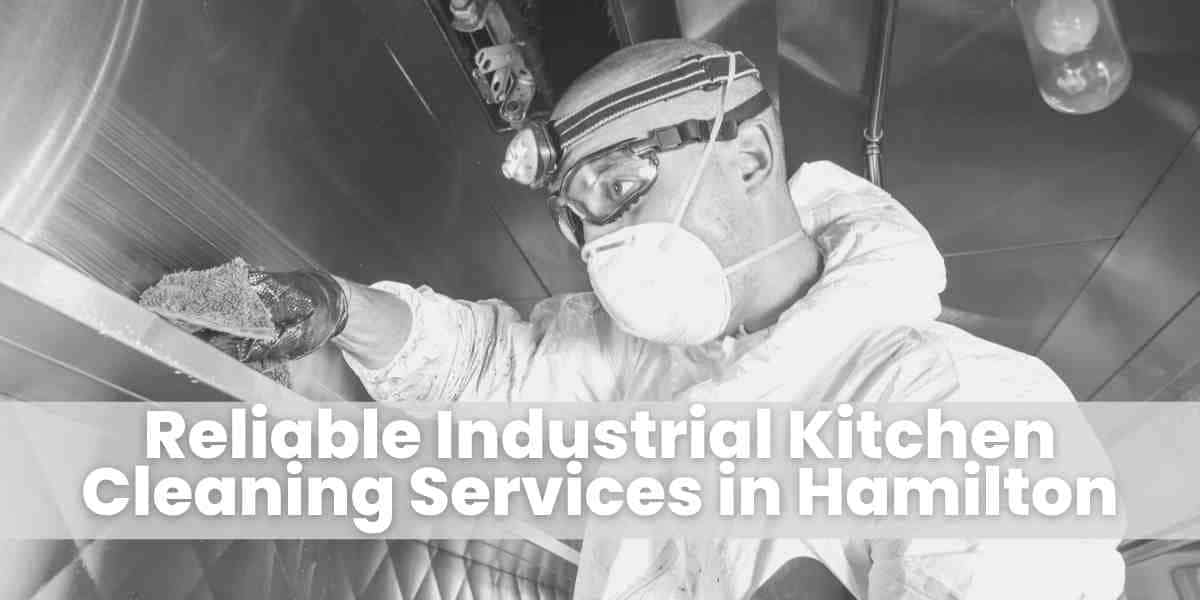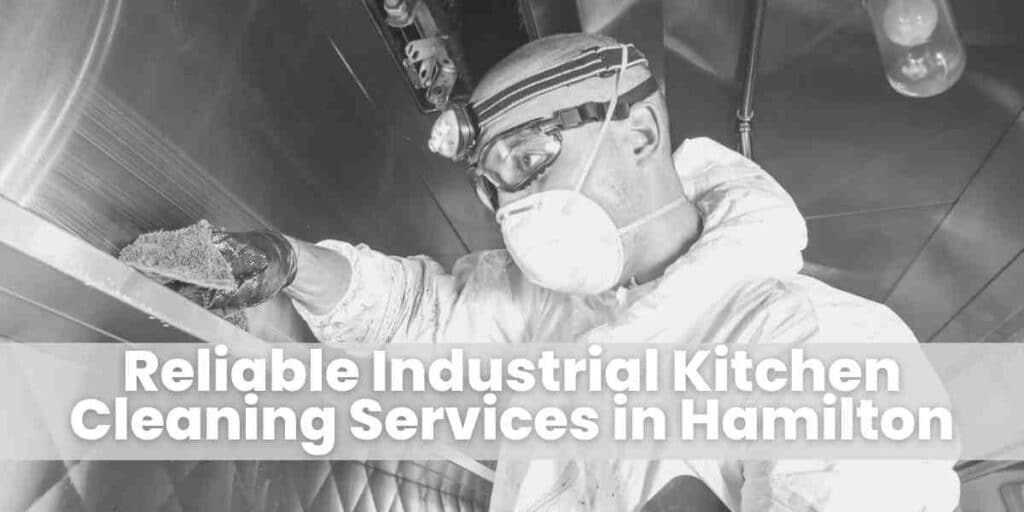 Reliable Industrial Kitchen Cleaning Services in Hamilton
Everyone uses the term "reliable" when advertising their services, yet only very few kitchen cleaning services in Hamilton remain true to the title. At Hamilton Kitchen Hood Cleaning Services, we have built a trusted reputation for ourselves by delivering reliable and consistent services throughout the years.
While all our competitors like to brag about their commercial kitchen cleaning services, we do things differently by letting our customers vouch for us. The difference between our service to others in Hamilton ON is our expertise and experience in cleaning industrial kitchens. The ability to handle large exhaust systems and keep them clean is what makes us stand out. That's why you should choose our service for all your industrial kitchen cleaning needs.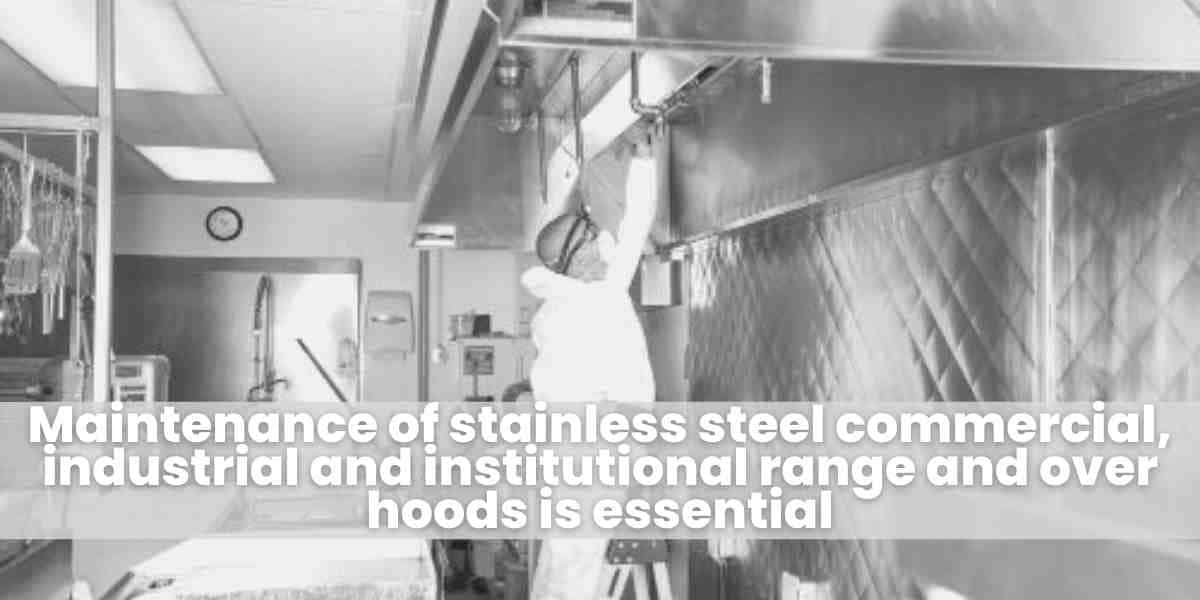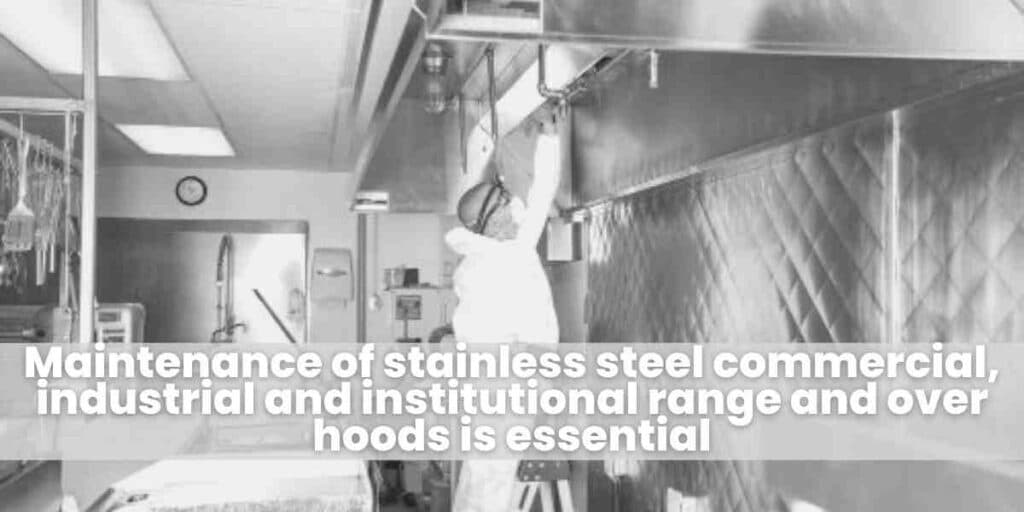 Maintenance of stainless steel commercial, industrial and institutional range and oven hoods is essential
Range and oven hoods in commercial, industrial, and institutional settings are no easy task when it comes to exhaust cleaning and maintenance. Yet, you can't be using and relying on them without thinking about how to keep them clean.
You need to routinely inspect and thoroughly clean these systems if you are going to keep them in good, working order so that they don't get clogged with grease, waste and other materials. We offer affordable maintenance services for stainless steel commercial, industrial and institutional ranges and oven hoods.
We're a certified contractor for scrubbing and pressure washing stainless steel range hoods, ductwork, and exhaust systems. The objective is to ensure your kitchen equipment is up to code and working fine through regular maintenance.
Learn More About Hamilton Hood Cleaning
Our Hamilton hood cleaning process may not be that different from other services, but our commitment to excellence sets us apart from the rest. With over a decade of experience serving Hamilton ON and its surrounding areas, we have more than earned our reputation as a trusted hood cleaning service provider.
Hood exhaust cleaning is our staple service and we take it as seriously as you would. The process comprises the following steps:
1. Technicians will inspect your system, looking for damage and other issues that are specific to each scenario. We find problems before they become serious. If needed, we'll fix the problem by replacing worn-out parts or upgrading the existing equipment's performance so you get more value for your money!
2. We'll clean the surfaces and remaining parts, using state-of-the-art equipment (including power washing) to remove all accumulated grease, dirt, grime, and other food byproducts.
3. Technicians will also clean the filters, ducts, and exhaust fans thoroughly to ensure maximum performance out of your exhaust system.
4. We'll put everything back in place, making sure you won't have to worry about your system standing in the way of your kitchen operations again.
Our Hamilton hood cleaning service promises to keep your kitchen safe and clean for food prep and cooking.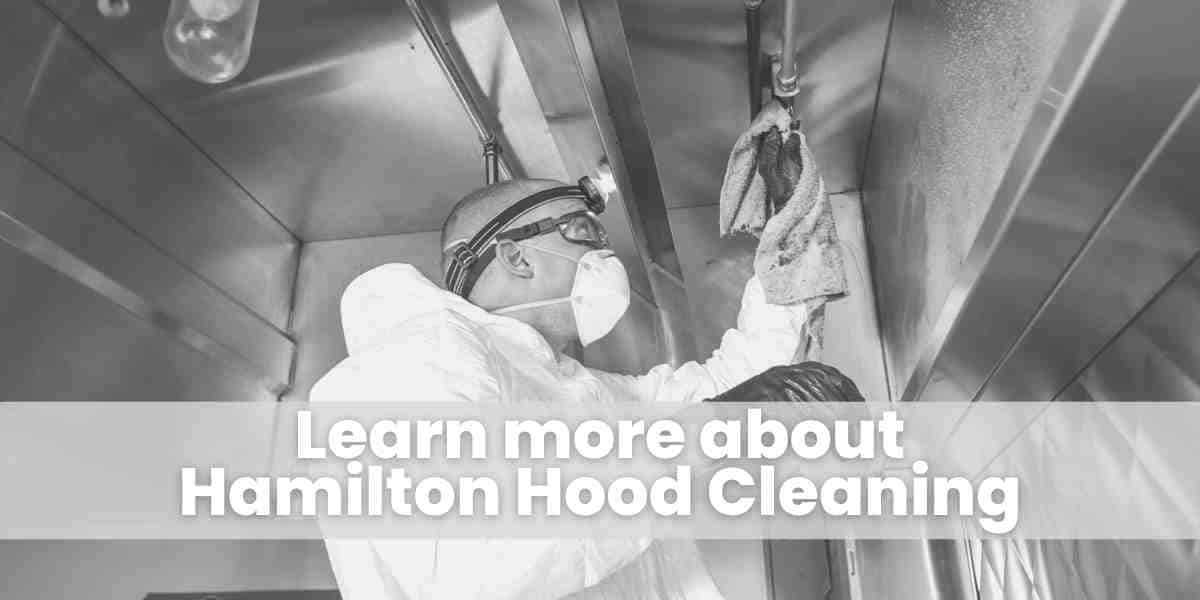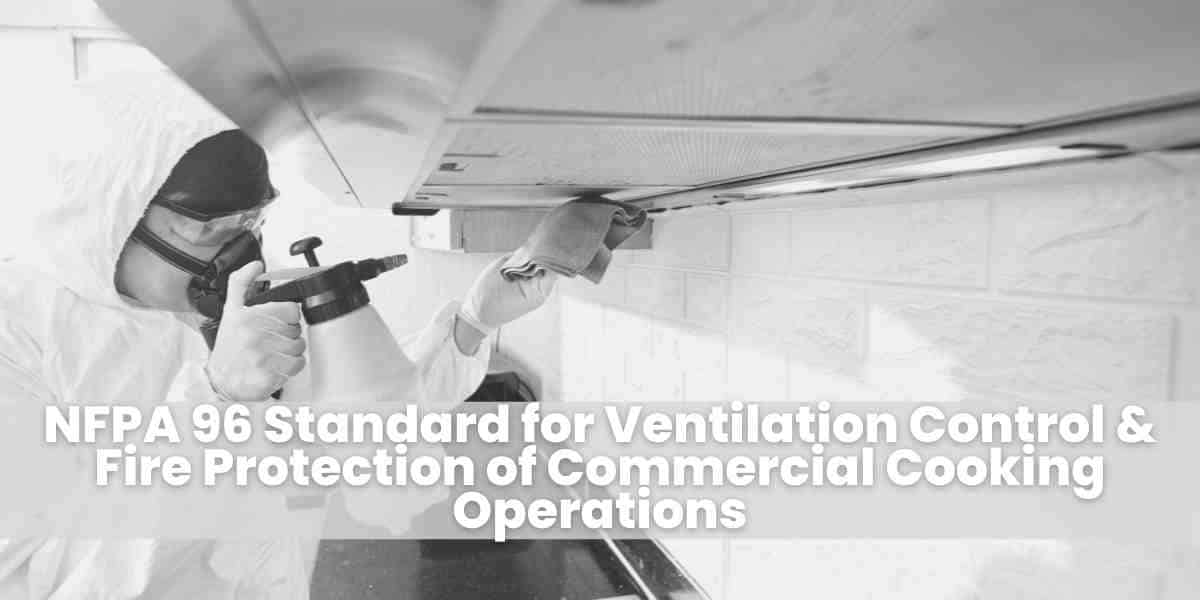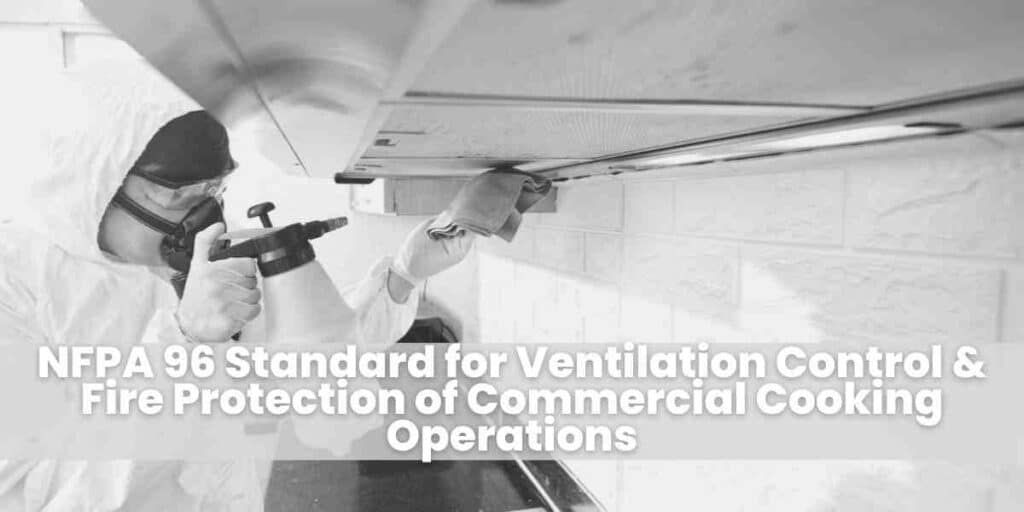 NFPA 96 Standard for Ventilation Control & Fire Protection of Commercial Cooking Operations
Any business that uses cooking appliances as an integral part of its operations needs to meet the NFPA 96 standards for exhaust system safety. This means that all establishments must comply with this safety standard when turning on or using their hoods or any other related equipment at least once a year for proper maintenance.
Hamilton Kitchen Hood Cleaning Services is fully compliant with the NFPA 96 standards, so you know your cooking operations are in good hands with us. In addition to our hood cleaning services, we also offer:
1. Grease Trap Service: We can provide grease trap pumping and maintenance service for commercial kitchens of all sizes and types. The traps will be thoroughly cleaned inside and out to keep the drains safe and free of clogs or blockages.
2. Grease Trap Installation: If you are installing a new system or replacing an existing one, we can provide this service as well to guarantee the system is working at its best.
3. Hood Installation & Repair: We have licensed and experienced technicians who can work on any kind of hood setup and repair any issues.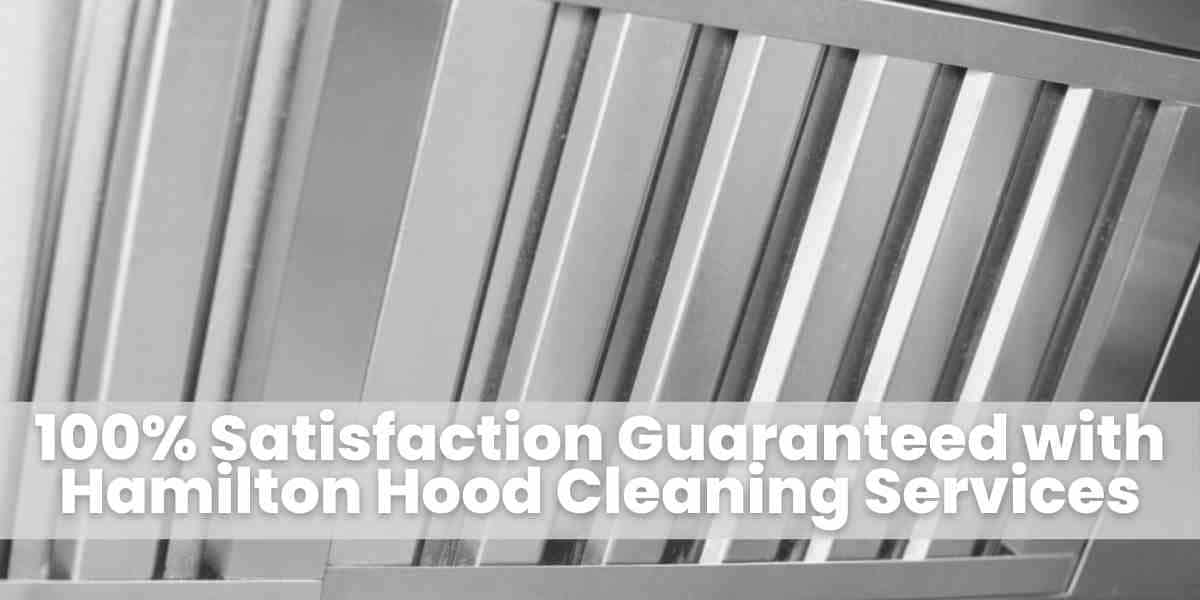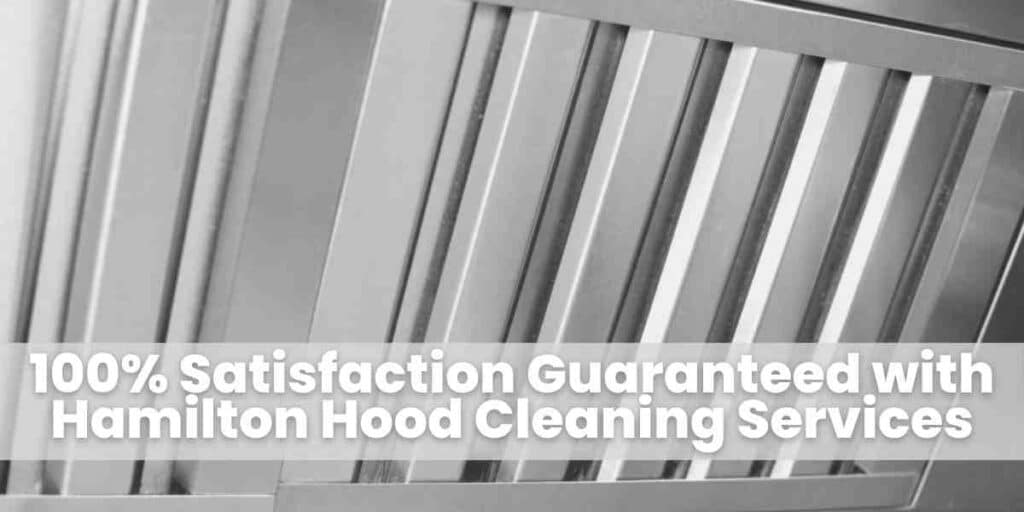 100% Satisfaction Guaranteed with Hamilton Hood Cleaning Services
You don't get to lose anything if you choose Hamilton Hood Cleaning Services. Our way of giving back to the community is by providing quality exhaust cleaning services that exceed your expectations. With our 100% satisfaction guarantee, you'll be more than happy with the results of our work – and we hope to earn your trust!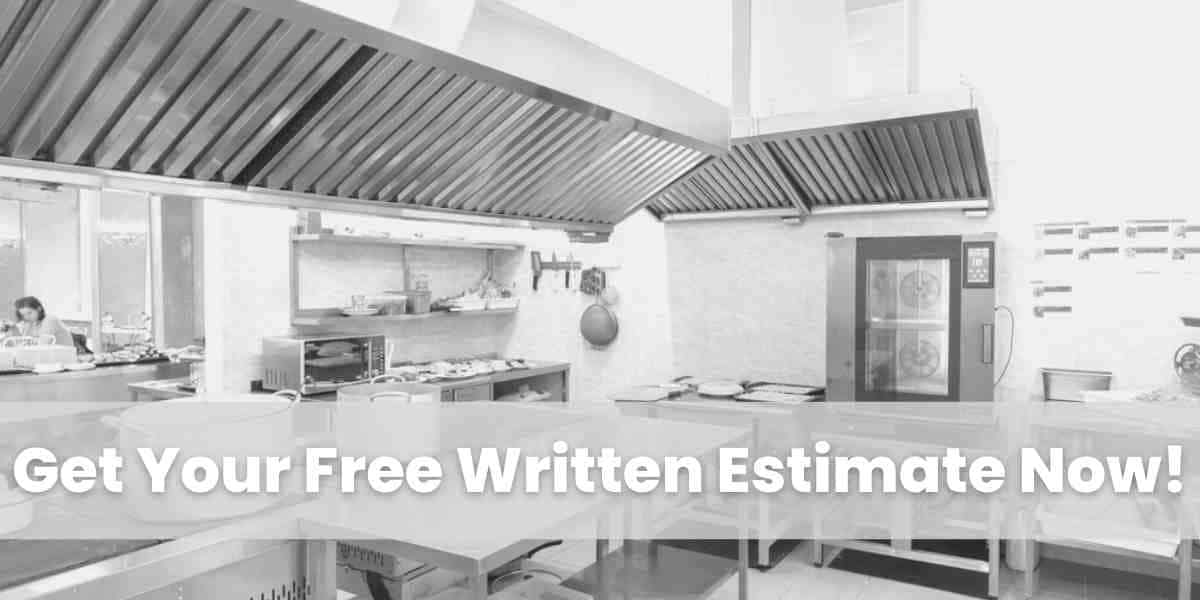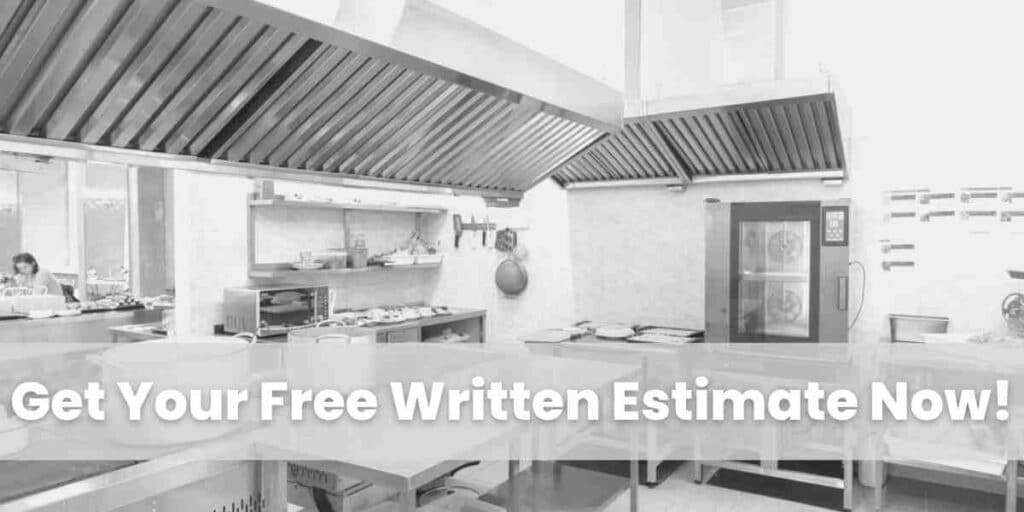 Get Your Free Written Estimate Now!
Grab that phone and give us a call to learn more about our services and get a free, no-obligation written estimate. Our Hamilton hood cleaning team can't wait to help you clean, maintain, and preserve the integrity of your kitchen exhaust system!
Kitchen Exhaust Cleaning is the process of removing grease and other build-up from commercial kitchen exhaust systems. Kitchen exhaust cleaning is important because grease buildup can be a fire hazard. The National Fire Protection Association provides specific instructions for maintaining commercial kitchen exhaust systems. How often the hood plenum has to be cleaned depends on the kind of food being cooked and the amount of grease-laden fumes being sucked up into the kitchen. Kitchen exhaust cleaning should be done by a professional Kitchen Exhaust Cleaning service. Kitchen Exhaust Cleaning services will have the proper equipment and cleaners to clean your kitchen exhaust system properly and safely.
Caustic chemicals are commonly used to remove grease from surfaces. These chemicals are applied to the grease and allowed to sit for a period of time before being rinsed away with hot water. In some cases, it may be necessary to use scrapers to remove excessive accumulation from contaminated surfaces prior to the application of chemicals. Caustic chemicals can be very effective in removing grease from surfaces, however they can also be very dangerous if not used correctly. It is important to always follow the instructions on the product label and to wear gloves and protective clothing when handling caustic chemicals.
Hot Water Pressure-Washing
Hot water pressure washing is a process of using high-pressure hot water to remove grease, grime, and other contaminants from surfaces. This type of cleaning is often used in commercial kitchens, as it is effective in removing build-up from surfaces. Hot water pressure washing is also effective in removing graffiti and chewing gum from surfaces. However, it is important to note that hot water pressure washing can also damage surfaces if not used correctly. It is important to always follow the instructions on the product label and to test a small area before applying the hot water pressure wash to the entire surface. In addition, it is important to wear gloves and protective clothing when handling caustic chemicals.
Finishing a hood cleaning job properly is just as important as starting it correctly. That's why cleaners will typically polish the hoods they've cleaned. A high-quality shine reassures the customer that every nook and cranny has been accounted for. Not to mention, it makes the kitchen look great. The cleaning company will also place a certification label on the hood of each cleaned kitchen exhaust system. This way, the authority having jurisdiction, insurance adjusters, and health inspectors can verify that the system complies with all applicable local, county, and state fire rules. In some cases, white residue from industrial kitchen grease cleaning needs to be washed away. The best way to do this is with a vinegar and warm water solution. But always check with the manufacturer's instructions first. By following these simple steps, you can be sure that your hood cleaning job will be done right.
NFPA 96 is the National Fire Protection Association's Standard for Ventilation Control and Fire Protection in Commercial Kitchens. The NFPA regulation requires that commercial kitchens have their exhaust systems cleaned on a regular basis to remove grease and other potential fire hazards. Many communities have adopted NFPA 96 as their local fire code, meaning that restaurant and other commercial kitchen owners must comply with the standard in order to operate legally. Cleaning kitchen exhaust hoods is a highly specialized task that should only be performed by those who have received proper training and certification. There are several methods of cleaning kitchen exhaust systems, but the most common are high-pressure water cleaning and chemical cleaning. Whichever method is used, it is crucial that all traces of grease and other pollutants are removed in order to prevent a fire from starting.
As anyone who has worked in a kitchen knows, keeping exhaust systems clean is essential for maintaining a safe and healthy work environment. Unfortunately, cleaning kitchen exhaust systems is also a potentially dangerous job, as the build-up of grease and other debris can create a fire hazard. As a result, it's important that those who clean exhaust systems are properly trained in the requirements of NFPA 96 and best practices in the industry.
Fortunately, there are a number of organizations that provide education and training for kitchen exhaust cleaners. The Power Washers of North America and the International Kitchen Exhaust Cleaners Association are two examples of organizations that provide resources and support for those who clean exhaust systems. These organizations offer educational programs, safety resources, and industry news to help ensure that kitchen exhaust cleaners are safe and knowledgeable in their work.
What People Are Saying
See what our customers are saying about us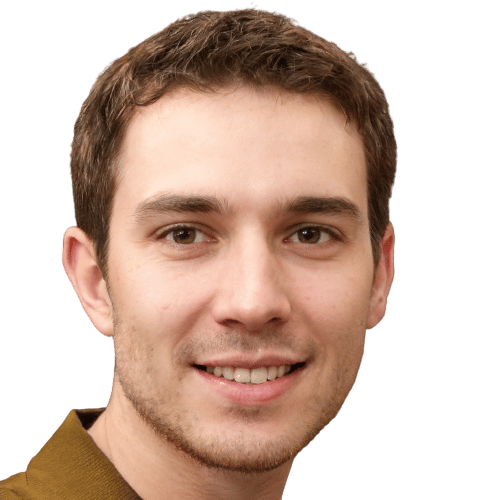 Professional with minimal disruption.
Very happy with their hood cleaning service.
Hamilton Hood Cleaning Areas Served
Kitchen exhaust cleaning is essential for every restaurant, not merely to satisfy a fire marshal or insurance company, but also to ensure the safety of your personnel and guests. A Kitchen Exhaust Cleaning business can clean your restaurant's hood, filters, exhaust fans, and ductwork to eliminate any grease or other accumulation. This not only prevents fires, but also improves indoor air quality and keeps your kitchen clean. It is critical to select a Kitchen Exhaust Cleaning provider that is both knowledgeable and respected. We would appreciate the chance to gain your business and guarantee that your restaurant is well-maintained. To learn more about our services, please contact us immediately. Cooking exhaust cleaning is vital since it aids in the prevention of kitchen fires. It also enhances the quality of the interior air and keeps the kitchen clean. Contact us immediately if you are seeking for a Kitchen Exhaust Cleaning provider. We will be delighted to assist you in managing your restaurant. Thanks!